The Song of LOVE
The Art
As a child, words were my best friends: they were who I would go to for companionship and for comfort. Time passed. I came to America, from France. At the time, I didn't speak a word of English, none whatsoever. And yet... Soon, English became my second native language. More time passed: I realize that communication is where my Power is. If I want to change, I must look at the story I tell.
Transformation is the calling of every artist. As such, it is mine. If I wished for my voice to find a trust and a hearing, I had to extend the freedom and the grace I experience in my art making to the whole of life. Yet where was the panacea that would allow for such result, which was no less than self-realization. Curiously, I found it in languages, specifically in marrying a language that transcended time, such as Hebrew which hasn't changed form since inception, to a language that transcended space, such as English that is the most widely spoken language.
Years of devoted studies, creative writing and intuitive painting followed. Until time and mind disappeared into a Song of LOVE. This forthcoming exhibit promises to uplift your gaze and your heart. For now, imagine and hear the Song...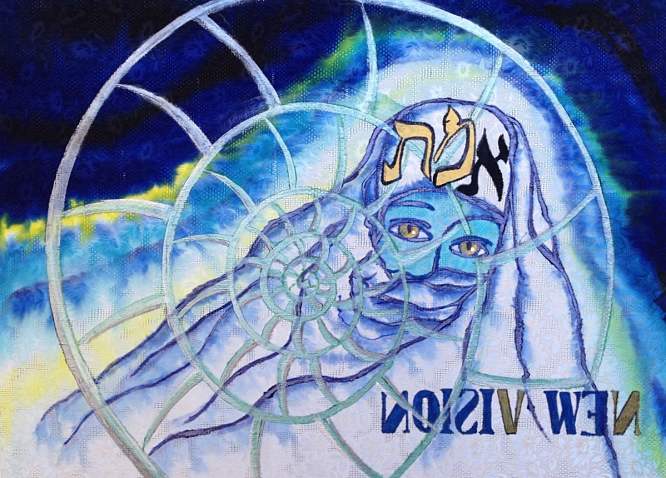 The marriage of Hebrew and English:
Hebrew word reads Truth (black + gold) or Death (just gold): it speaks of being ready for the Truth that will change my life (a form of death).
English word has to be read in a mirror: I then see a New Vision, devoid of NV ("envy").

Below are the SIX steps "I" had to climb to hear and see the Song of LOVE...T
(each link is an exhibit) he Art
0. Twilight or the ambivalence of ignorance via Beyond the Stars | Magical Garden | Scriptures & Spirits |
1. Midnight or the fated emergence of a message via Noah's Art | Timing is the Essence of Life | Numbers & Letters |
2. Dawn or the appearance of a SOULution via Holy Moons & The Ultimate Rainbow | Hotel Paradise |
3. Noon Sun or the evidence of Spirit via The Physical & The Meta | When Boredom... | Israel is Real | Once Upon a Tree |

4. Sunset or the coming to integrity via Belief /Be Leaf! 00 | 01| 02 | Children at heART |

5. In the NOW or the centering into LOVE via The Path of XPR | The Song of LOVE |
,,,,,,,,,,,,,,,,,,,,,,,,,,,,,,,,,,,,,,,,,,,,,,,,,,,,,
Each "moment" was felt through many exhibits, until the message ("surrender to the heART") was reasonably embodied. These different stages are presented to you now as a six-fold key, to allow you – if only for an instant – to take a quantum jump into another dimension; this of the Sacred.
Notes: the lines of colors above (a.k.a. XPR's fractals) are felt in the New Essenes gathering as a tool of transformation. That technology is radical, as it is based on Sacred Geometry.




home